All Natural Wellness Facials
Our facials are designed to nourish, feed and rejuvenate the tissues of your skin with ingredients rich in vitamins, minerals, antioxidants and enzymes which work to brighten your complexion, remove dead skin cells and infuse your skin with health and vitality.
Working with nature's ingredients will reveal your skin's own radiance and vibrancy, while supporting healthy skin at the deepest level.
What you will not find in our facials are:
• Insecticides, herbicides or fungicides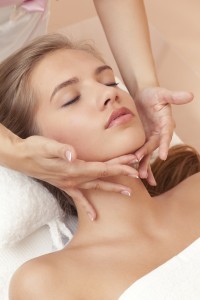 • Fertilizers or genetically modified ingredients
• Artificial colors and fragrances
• Dioxins
• Petrochemicals
• Sodium lauryl sulfate & sodium laureth sulfate
• Mineral oils
• Parabens
• Hexane
• Aluminum
For ladies and gentlemen with allergies or chemical sensitivities, or those who simply want to avoid harsh chemicals found in many beauty products, an organic beauty treatment from K-W Homeopathic Medicine and Wellness Clinic is the way to go.
We take great care to tailor each of our facials specifically to your skin type and condition. And you get to enjoy a relaxing face and hand/arm massage while your skin rejuvenates.
Professional Organic Skincare:
Founded on the principles of Thalassotherapy, Seaflora skincare products are made up of a mixture of nutrient- laden whole seaweeds and rainforest botanicals, offering you an authentic, effective and luxurious spa experience.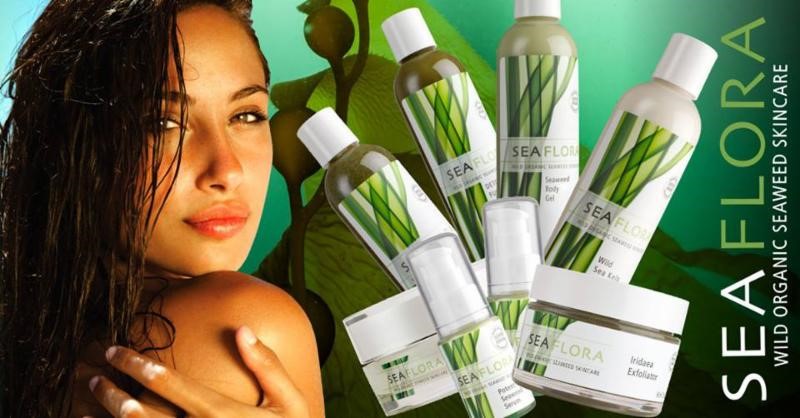 Hand-harvested from the wild Canadian coast of British Columbia, Seaflora brings you the freshest and purest seaweed skincare possible. Seaflora is formulated first & foremost to provide effective professional spa treatments to focus on various aspects of anti-aging, nutrition & wellness for the skin.
Wild seaweeds are rich in vitamins. Did you know wild seaweeds contain higher levels of vitamins A, B1, B2, B5, B12, and C, pantothenic acid, folic acid and niacin than fresh fruits and land vegetables?
Seaweeds are also an important supply of 60 trace elements. They are a primary source of B12 and significant amounts of vitamin E & K and an excellent source of over 12 minerals, including potassium, calcium, iodine, magnesium, phosphorus, iron, zinc & manganese. In addition to these nutrients & minerals, seaweeds are a treasure of nutritional concentrates that include all amino acids that help firm and renew tissues and fatty acids to increase fluidity of cellular membranes and to reduce inflammation.
They also contain high levels, about 10 times more concentrated levels than land-based plants, of beta-carotene and polysaccharides to slow skin's aging, treat acne, irritated skin, or eczema problems.
Seaflora seaweeds are wild, hand-harvested and the only certified organic seaweeds in the world used in skincare products.
They offer you beauty, nutritional wellness treatments and therapeutic thalassotherapy experiences to hydrate, feed and nurture your skin.
Seaflora seaweeds are rich in amino acids to help firm the appearance of skin, while fatty acids & beta-carotene increase vitality and leave skin vibrant & youthful looking.
Cleansing Beauty Mask 
This refreshing facial can be used for all skin types. The treatment will leave your skin feeling renewed, nurtured, and clean.
 $95/ 60 min
$380 / Package of 5
Intense Nourishing Facial
Meant for dry skin, this gentle facial gives your skin a boost of hydration with nutrient-rich, certified organic seaweeds to create nourished and hydrated skin.
 $85/ 60 min
$380 / Package of 5
Potent Acne Fighting Facial
This soothing facial is recommended for oily and acneic skin types to draw out excess oils and reduce the appearance of breakouts and minimize the look of pores. 
 $95/ 60 min
$420 / Package of 5
Restorative Anti- Aging Facial
This firming facial combines anti-aging fruit acids, Hyaluronic acid, Co-Enzyme Q10, & shea butter, along with it's ultra-protein rich seaweed to revive dehydrated, devitalized, damage, premature/mature skin.
 $100/ 60 min
$440 / Package of 5
Balancing Sea Kelp Facial
This revitalizing facial is recommended for sensitive skin to help reduce inflammation and redness.Complexion is balanced and clarified leaving skin rejuvenated and fresh.
 $95/ 60 min
$420 / Package of 5
Go natural and glow!
All prices are to be understood HST extra.
For your convenience we accept payment by cash, cheque, debit, VISA or Mastercard.